Overlook at Franklin Square 8501 Franklin Square Dr. Baltimore, MD 21237
Overlook at Franklin Square is a newly completed apartment complex suited with 356 units in 6 elevators and 2 garden-style buildings in Baltimore, MD.
Fence & Deck Connection partnered with CCG Residential Construction of Reisterstown, MD to supply and install premium custom manufactured railing systems for all of the 4-story buildings in this luxury apartment complex.
Since Overlook at Franklin Square offers a unique blend of modern industrial charm with warm textures and finishes, it was important to choose a railing system that could match the architecturally unique layout of the structure. We chose Ultralox premium powder-coated aluminum railing in a custom wood grain handrail color to compliment the fresh modern industrial look in the following areas:
Terrace Balconies
Breezeway railings
ADA handrails in stairwells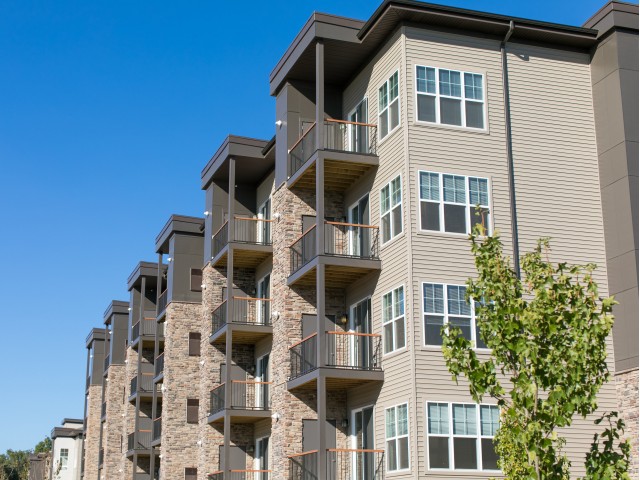 Balcony Railings at Overlook at Franklin Square
In order to maintain the modern feel of the buildings, bronze Ultralox Victorian aluminum railings with ½' x ¾" aluminum pickets were chosen. Ultralox Aluminum Railing uses hidden fasteners and textured powder coating for outstanding beauty and durability. For this project, we used the continuous top rail system in a unique wood grain color called Steamed Maple. The warmth of the wood and the bronze nicely compliment the warmth found in the stone veneer used on the exterior building walls of the building.